Bg Lift

CWE315 MINIKRAN | COMPACT KRAN | BGLIFT
$311,848
plus 21% VAT, $377,336 gross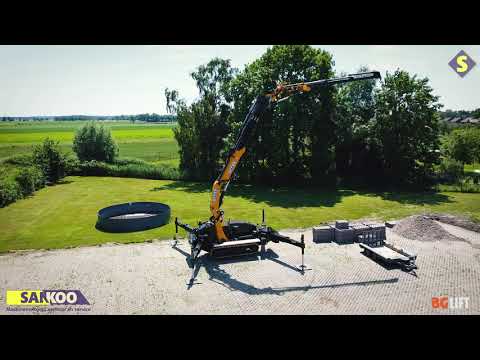 | | |
| --- | --- |
| Location | 40549 Düsseldorf, Germany |
| Delivery available | |
| Financing available | |
| Condition | New |
| Advertiser status | Commercial |
| | |
| --- | --- |
| Year of manufacture | 2021 |
| Operating weight | 10,000 kg |
| Outreach | 26.35 m |
| Lifting capacity | 9,715 kg |
| Advert number | 5627614 |
---
Further Descriptions
Bg-Lift CWE 315 MINI-KRAN | COMPACT-KRAN | BGLIFT

Der Bg Lift CWE 315 ist ein Raupenkran, der auf Stahlketten montiert und mit einem Yanmar-Dieselmotor ausgestattet ist. CWE 315 verfügt über eine automatische Ballasterkennung mit automatischer Hub- und Stabilitätskontrolle. Der Kran ist vollständig proportional steuerbar. Die multifunktionale Scanreco-Fernbedienung mit LCD-Bildschirm eignet sich für alle Funktionen: Fahren, Stempeln und Kranbedienung. Der Bg-Lift CWE 315 ist mit einem niedriger Schwerpunkt gebaut. Dies in Kombination mit den gekreuzten Querträgern ermöglicht das Heben schwerer und sperriger Lasten auf sehr engem Raum.

Technische Daten Sankoo BGLift CWE 315
Motor : Yanmar 4TNV98CT-N STAGE 5 55 Kw/74,8 Hp
Elektromotor : Inverter 400V 15 KW
Max. hydr. Schwenkbereich : endlos
Transport breite : 1,65 m
Transport länge : 4,61 m
Transport höhe : 2,53 m
Fahrgeschwindigkeit : Ca. 2 km/u
Überlastwarneinrichtung : Elektrisch
Max. Kapazität : 9.715 kg
Gesamtgewicht : 10.000 kg
Höchste Hebepunkt : 29,2 m
Horizontaler Anwendungsbereich : 26.4 m
Fernbedienung : Multifunktionale Scanreco-Fernbedienung mit Display

Sankoo Maschinenverkauf, -vermietung und -service ist ein innovatives Unternehmen, das sein Herz der Mechanisierung von schwerer Handarbeit verschrieben hat. Die Kernaufgaben bestehen aus dem Verkauf, der Vermietung und der Wartung eines qualitativ hochwertigen Angebots an kompakten Baumaschinen. Das Angebot umfasst Minikräne (MHK und Bg Lift), Hubarbeitsbühnen (Cela, Bibi en Platform Basket) Gelenklader (Avant, Fuchs, Giant und Schaffer), Minibagger (Caterpillar und Kubota), Kompaktlader (Skidster und Sherpa) und Glas-Sauger (Righetti, Powergrip, Viavac und Muyen). Sankoo verfügt auch eine Reihe von Kunststoff-Stempelplatten, Aluminium-Rampen-Ladeschienen. Es versteht sich von selbst, dass unser Service mit ehrlicher und angemessener Beratung einhergeht.

------------------------------------------------------------- ----------------------------------------------------------------- -

Bg Lift CWE 315 MINI Crane | COMPACT Crane | BGLIFT

The Bg Lift CWE 315 is a tracked crane mounted on steel tracks and equipped with a Yanmar diesel engine. Bg Lift CWE 315 features automatic ballast recognition with automatic hoisting and stability control. The crane is fully proportional operable. The multifunctional Scanreco remote control with LCD screen is suitable for all functions: driving, stamping and crane operation. This Bg Lift CWE 315 is built with a very low centre of gravity. This in combination with the crossed cross beams makes it possible to hoist heavy and sizeable loads with very limited space.

Technical specifications Sankoo Bg Lift CWE 315
Engine : Yanmar 4TNV98CT-N STAGE 5 55 Kw/74,8 Hp
Electric motor : Inverter 400V 15 KW
Max. hydraulic swing range : Unlimited
Transport width : 1,65 m
Transport length : 4,61 m
Transport height : 2,53 m
Load moment protection : Electric
Transport speed : 2.0 km-h
Max. capacity : 9.715 kg
Total weight : 10.000 kg
Highest lifting point : 29.2 m
Horizontal range : 26.35 m
Remote control : Multifunctional Scanreco remote control with Display

Sankoo Machinevereverkoop, Verhuur en Service is an innovative company that has its hart set on the mechanisation of heavy manual work. The core tasks consist of selling, renting and maintaining a high-quality range of compact construction machines. The offer includes mini cranes (MHK and Bg Lift), aerial platforms (Cela, Bibi and Platform Basket), articulated loaders (Avant, Fuchs, Giant and Schaffer), mini excavators (Caterpillar and Kubota), skid-steer loaders (Skidster and Sherpa) and glass suction units (Righetti, Powergrip, Viavac and Muyen). In addition, Sankoo has a range of synthetic stamping plates, aluminium ramp loading rails.
We provide honest and appropriate advice with our service.
Request more information
---
---
Request appointment to view
---
Advertiser
Sankoo Hebetechnik
Mr. Johan van der Sanden
Alt-Heerdt 104
40549 Düsseldorf
Germany
We speak:
German, English, Dutch

Contact seller